Leukemia Fusion Genes (Q30) Screening Kit is a qualitative in vitro diagnostic test for screening of 30 fusion genes resulted from chromosome translocations involved in chronic and acute leukemia. All the 30 fusion genes include more than 155 clinically relevant chromosomal breakpoints. The kit detects RNA transcripts of fusion genes extracted from human bone marrow or whole blood samples using a RT-qPCR procedure.
The fusion gene detected by the kit allows professionals to be more aware of the patient`s prognosis and provides professionals important insights into the treatment planning.
The kit detects the following 30 chromosome translocations (Table 1):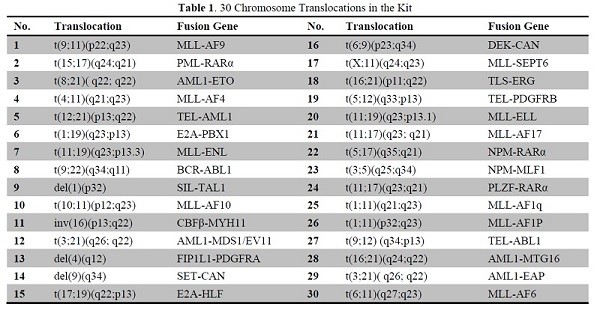 Principle
Leukemia Fusion Genes (Q30) Screening Kit is a multiplex RT-qPCR based assay for detection of leukemia associated fusion gene transcripts in total RNA from bone marrow or whole blood samples. Included in the kit are RT reaction mix and qPCR mix. cDNA is synthesized by adding purified total RNA to the RT reaction mix prepared in advance. The resulting cDNA is added to 8 qPCR reaction tubes, which contain specific PCR primers and probes for detection of fusion genes and an internal control gene of GUSB. The qPCR is performed in a real-time thermal cycler with optical filters for the detection of FAM, ROX, HEX and Cy5 fluorescence signals. Amplification plots and the resulting Cq (Quantification cycle) values are used for the identification of the fusion gene transcript.
The kit detects fusion gene transcripts using specific PCR primers and probes. The translocation specific primers bind to exons in the fusion gene enabling amplification of the region containing the clinical relevant breakpoint, and the amplicons are detected by the translocation specific probes.
Detection of the GUSB gene is an internal control for the integrity of the RNA sample and functionality of both cDNA and qPCR reactions.
CE-IVD Marked
---
Next:
BCR-ABL1 Genotyping Kit
---